www.eylemcengiz.com [Ana Sayfa]
Trakya Gezisi
16-17 Nisan 2005
I started my journey from home. (Which is at Esenşehir/ISTANBUL) I headed towards the second bridge, and continued to ride to west along the freeway (TEM).




About 34 km's after passing the pay-road entrance (toll stations), I reached the exit for Catalca. I left TEM at that exit.




This is at the fuel stop (BP). It is just before Catalca. It is just 36.5 km's after the toll stations. You can see my road notes on taped on the fuel tank. The road notes are proven to be accurate now.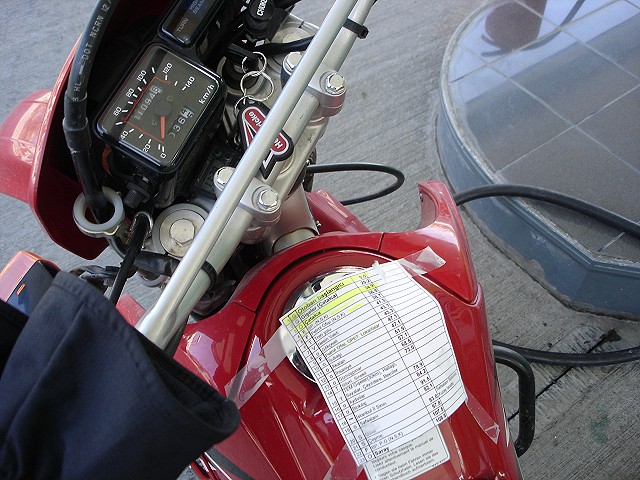 These are my road notes:
nr
Type
Place
Distance
Notes
1
G
Toll road start
0.0
2
G
Toll station: Çatalca
29.2
3
O
Çatalca
34.9
4
F
BP, (N,S,K)
36.5
5
F
Petrol Ofisi (N,S,K)
38.7
6
T
Railway
41.5
7
V
Nesin Vakfı/foundation
43.1
8
o
Gökçeali
43.3
9
F
P.O, OPET, Restaurants
47.1
10
o
Subaşı
47.1
11
o
Akalan
51.9
12
o
İhsaniye
57.1
13
o
Gümüşpınar
68.5
14
T
Silivri, Sinekli
73.0
15
T
TEM Toll station(dist=30km),
Hallaşlı, Sayalar, Çayırdere, Beyciler
16
o
Aydınlar
78.9
17
o
Binkılıç
84.2
18
~
İstanbul-Tekirdağ border
91.5
19
o
Safaalanı
92.1
20
S
Pond
93.0
At the end of Safaalanı, North
21
S
Fountain
97.8
22
F
BP, P.O (N,S,K)
107.5
23
O
Saray
108.8
24
~
Tekirdağ-Kırklareli border
114.3
25
o
Çakıllı
117.6
Plane-tree
26
F
Petrol Ofisi (N,S,K)
119.0
27
F
Türk Petrol (N,S,K)
126.6
28
O
Vize
128.1
Castle of Vize
29
F
Shell (N,S,K)
128.7
30
H
Trak Hotel (Vize)
31
!
Road work (Remember, we are not still in 2005)
134.5
32
!
Road work (Remember, we are not still in 2005)
134.2
I saw a fox here
33
o
Pazarlı
137.0
34
T
Sergen, Evrencik
35
T
Doğanca
140.7
Park at the rightside
36
T
Soğucak
142.7
37
o
Poyralı
146.7
38
T
Demirtepe, Dupnisa mağarası
147.2
Cave - worth seeing.
39
F
Petrol Ofisi
147.8
at the rightside
40
o
Erenler
149.0
Binbir Oklu Ahmet Baba Türbesi/Mouseleum
41
O
Pınarhisar
152.5
Fuel station. Junction for Lüleburgaz
42
o
Kaynarca
158.9
43
T
Karıncak
167.4
44
o
Üsküpdere
169.7
45
T
Üsküp Junction
172.5
46
o
Kızılcıkdere
174.5
47
O
Kırklareli
184.4
Traffic lights
Symbols
T
Junction
o
Village
O
Town
F
Fuel station
~
Border
H
Hotel
G
Toll station
S
Water resource, pond etc.
!
Attention!
Istanbul-Tekirdağ border.




Tekirdağ-Kırklareli border.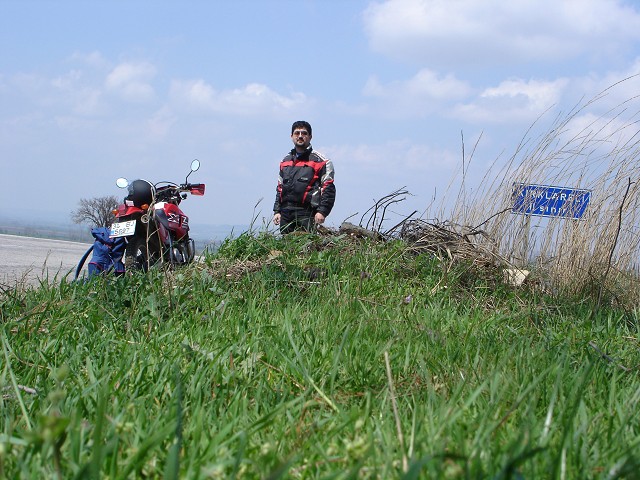 I didn't give a break till I reached Kaynarca. This is the history of this village. According to the plate, Persian Emperor Darius stayed here for three days. Mytological hero, Tyracean king Tearos used to hang-around here. :-)




The name of the village is Kaynarca, which means watersource - spring. Trout is produced in the village.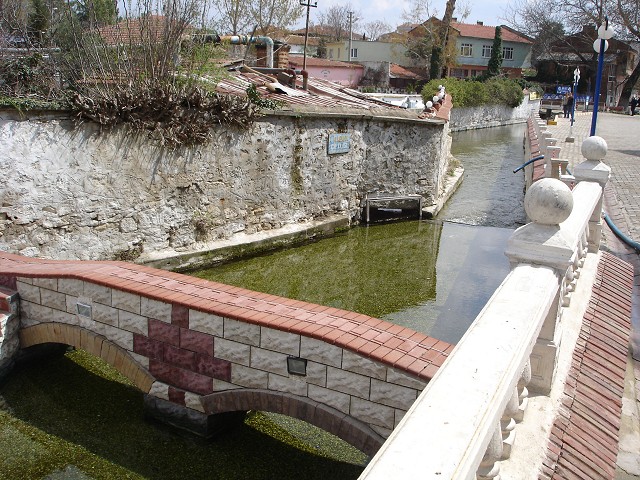 I cannot say the type of this fish. :-(




Well, it seems that they are not producing trouts at the moment.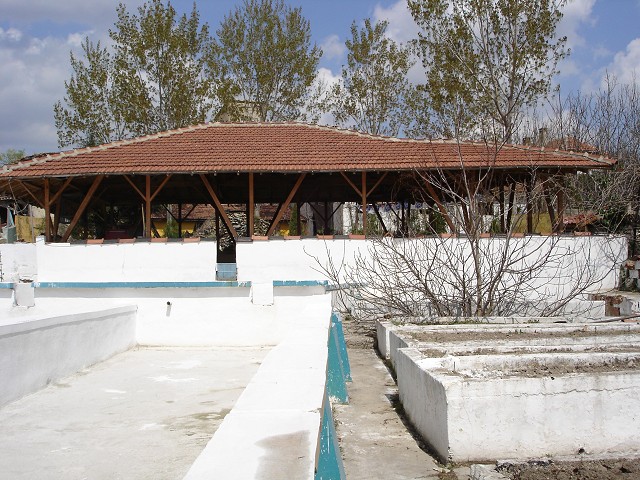 That is me, in front of a grocery.




A peaceful dog, having siesta.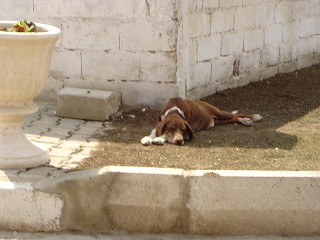 Local guys at the village cafe. (Kahve/Kahvehane/Kıraathane)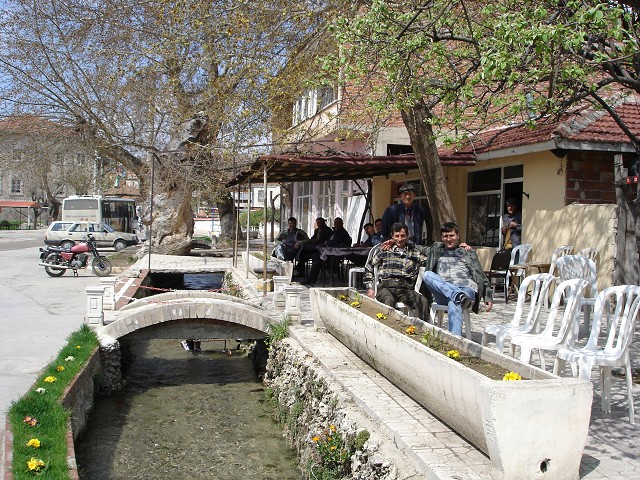 Kızılcıkdere, the garden of my grandparents.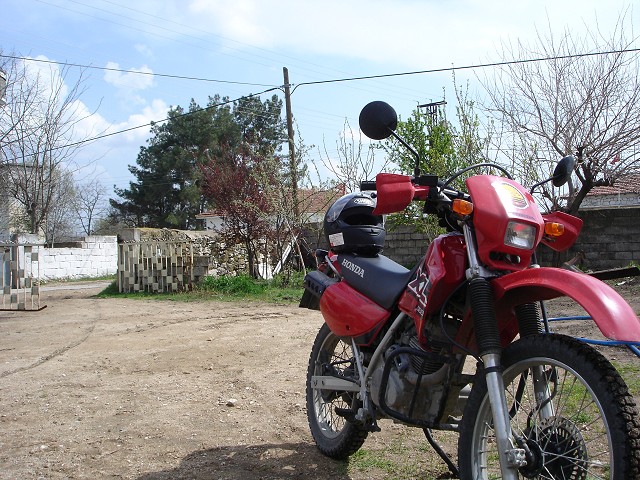 Me as an unnecessary figure behing the tulip.




Grandmother seems to have planted beautiful tulips.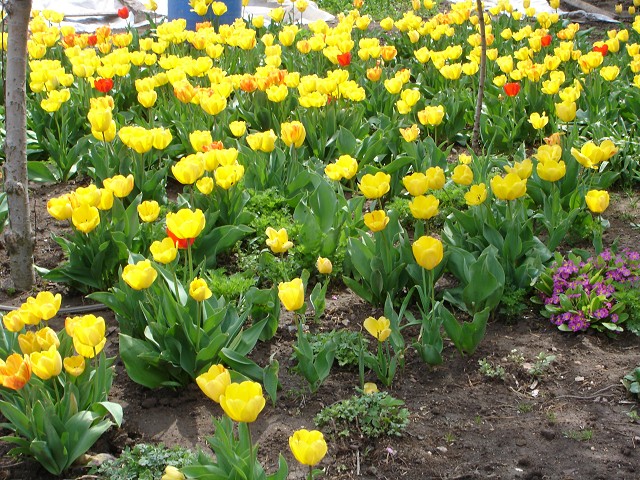 Sliced bread, butter and some spice together does not stay long on the table.

This not a table in fact. It is called sofra. The height of a sofra is only about one feet. Of course you do not use a seat with sofra, you sit on a mattress on the floor. Practical indeed.




I ended my first day in Kırklareli. My parents are living in a flat at the city center.

Next day, I started riding to Edirne. I stopped to take photos before Edirne.




This is my favourite restaurant in Edirne. (The neighboring restaurants are also O.K. though.) It is just behind Ali Pasa Covered Bazaar.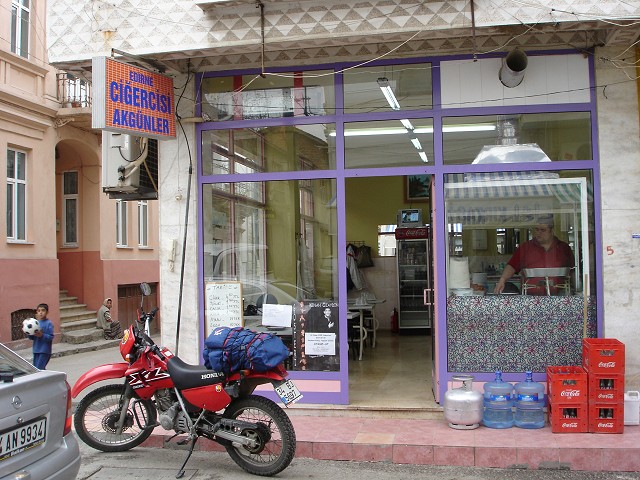 Ciğer Tava This is irresistable. Liver is coated wih flour and fried like chips. Believe me, you if forget to have it, you will regret.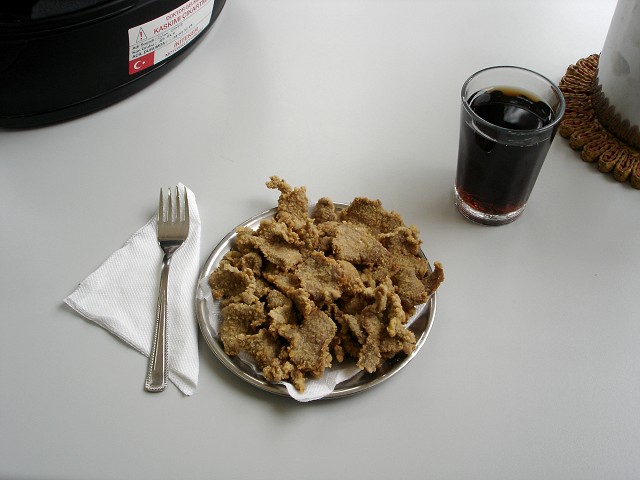 This photo is a text book photo for Turkish tea. We drink black tea (Schwarz tea, cha, etc.) with this type of glass, which is rather small and thin. The glass have a matching cupboard and a small spoon. It is much smaller than a dessert spoon. Many restaurants in turkey offer tea after the meal. It is usually on-the-house, as it is now.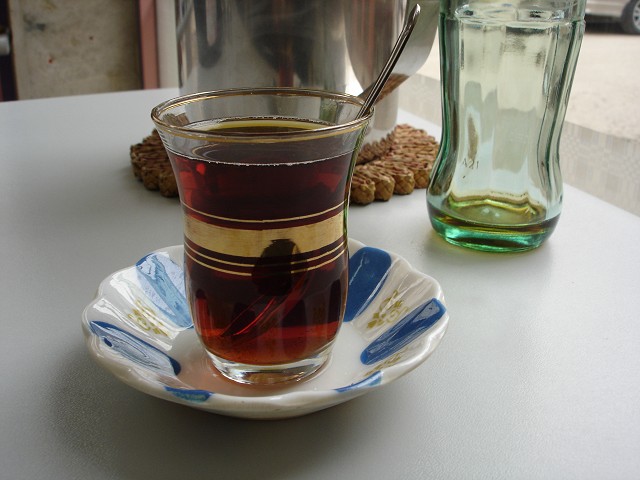 OK, I get it, it is not a very good photo. Selimiye is the mosque at the back.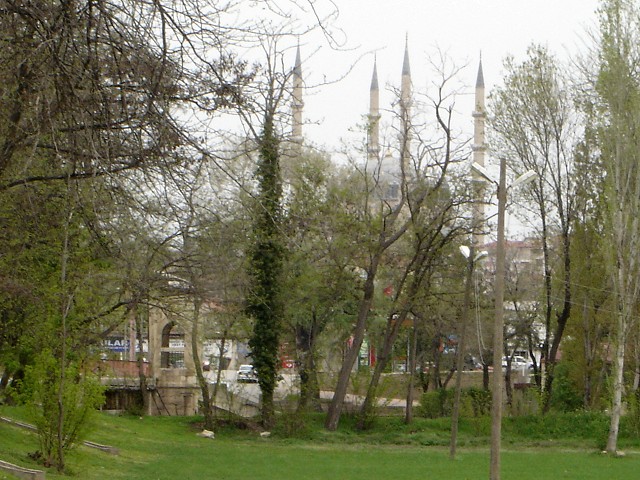 Old railway station. It belongs to Trakya Universitesi now. There is "Lozan Muzesi" (Lausanne Museum) in its garden.




This cafe is just at the opposite side of the road, facing the old station.




Lausanne memorial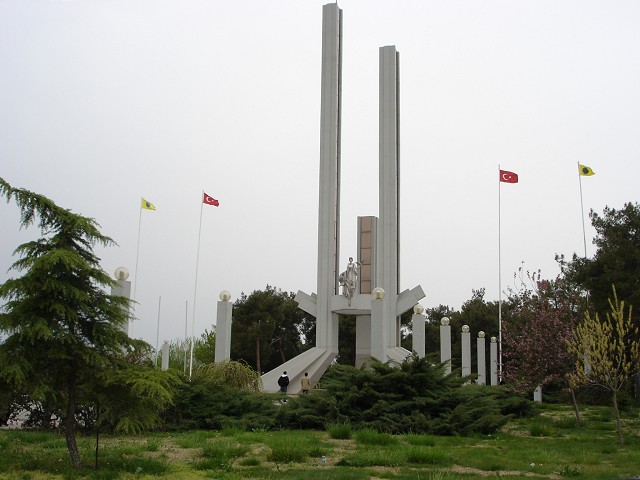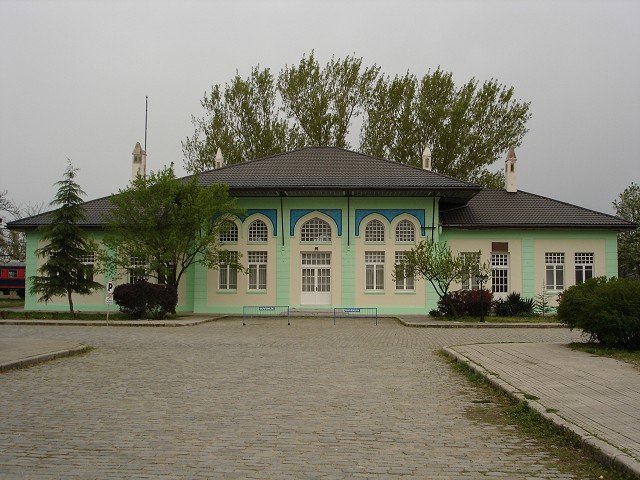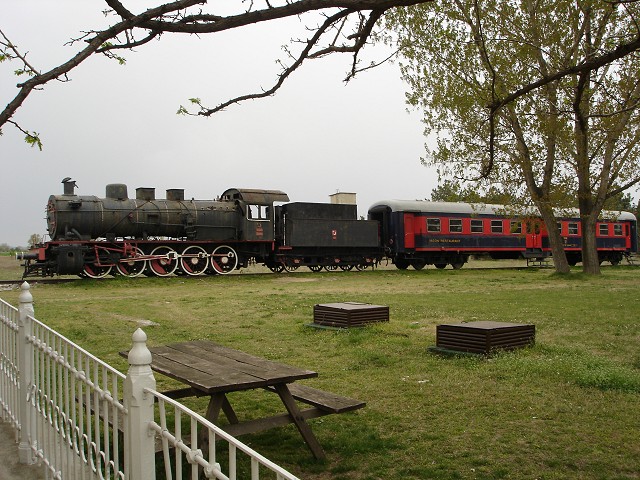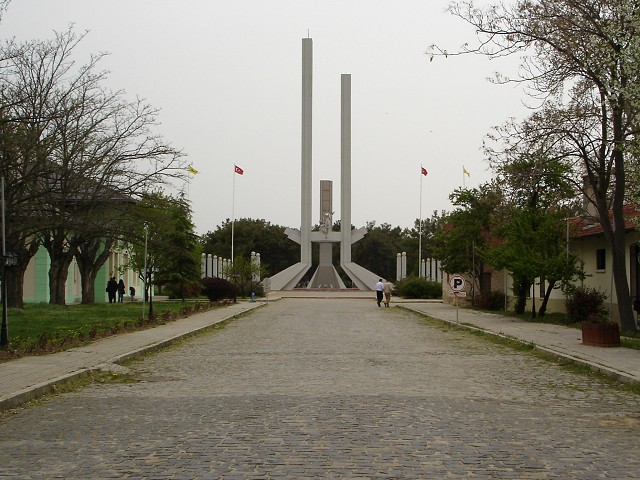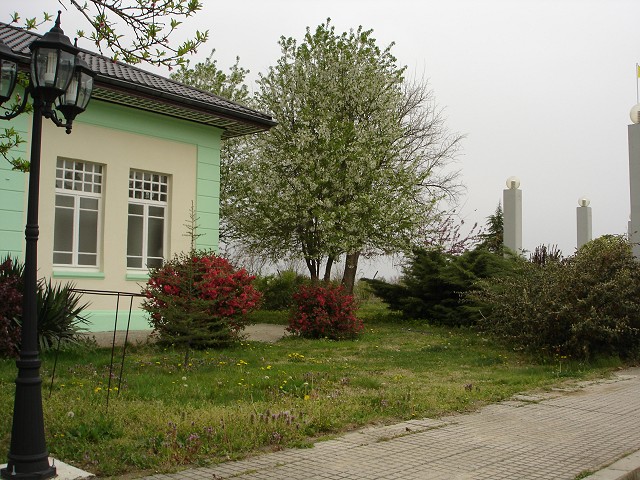 A popular restaurant of Edirne.




Another..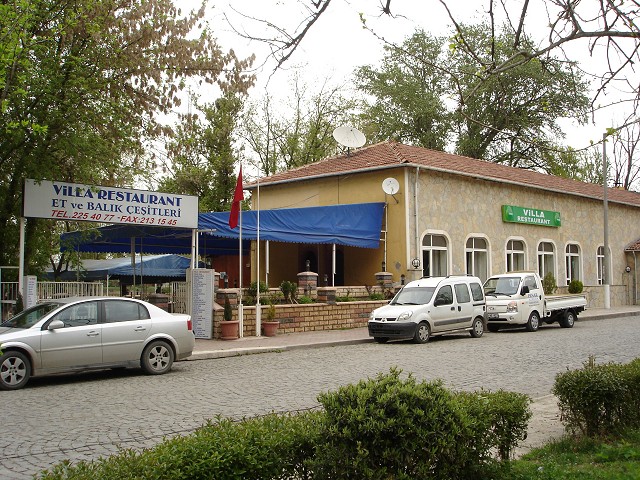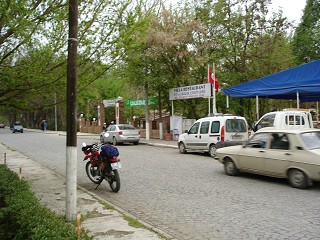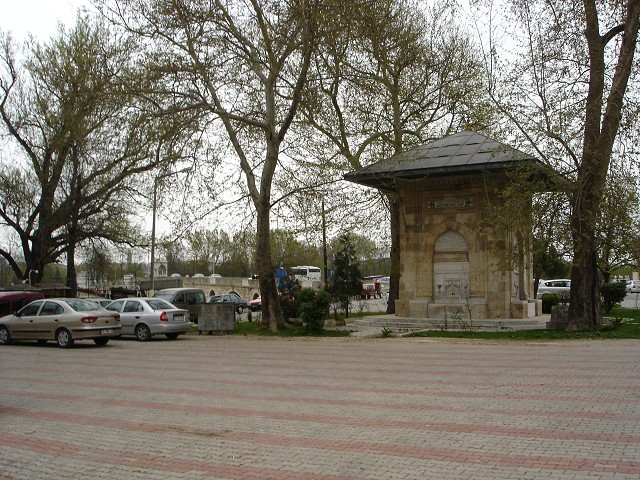 After leaving Edirne I took D-100 (old E-5) to Luleburgaz. Afterwards, I went to Pınarhisar and returned from the same way back to home.